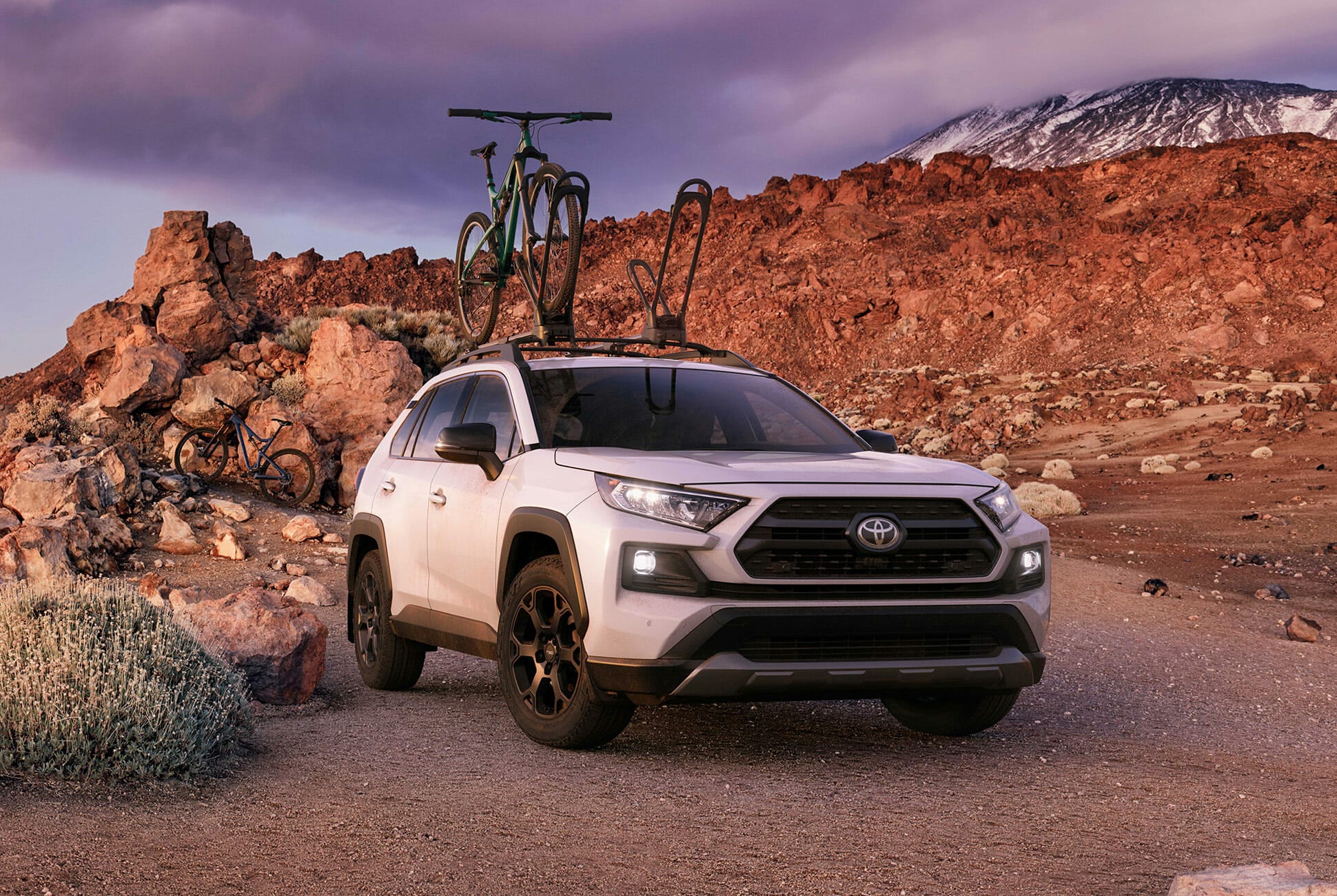 The 2020 Toyota RAV4 is an economical crossover SUV that offers comfort and stability to those who have the privilege of owning one. The RAV4 comes in numerous editions, including hybrid models. Buyers are sure to find one that fits their needs and their budget. With a sleek sporty exterior, the RAV4 comes in numerous color options to meet your style. The RAV4 can come with either 17 or 18-inch alloy wheels. It is also available with a two-tone roof that has roof rails to hold whatever you might be transporting.
Performance Features
With an eight-speed transmission and a horsepower of 203, the dynamic torque vectoring system allows for the RAV4 to go off-road successfully. The power behind the RAV4 boasts a 2.5-liter inline four-cylinder engine. With three different driving modes, it can automatically adjust to whichever type of driving you are doing so you can be the most economical with your fuel as possible.
Comfortable and Useful Features
The interior also offers a luxurious experience when driving around Battle Creek and Paw Paw, MI. The panoramic glass roof can open up to allow fresh air into your vehicle. The ambient lighting in the interior allows the driver to see without distraction from the lighting being too bright. A digital rear-view mirror is available to help with safety by allowing drivers to see what is behind them. Heated and ventilated seats are also available to both the front and back seats. The driver, as well as the passengers, can ride in comfort with the exact temperature they would like.
For safety, the RAV4 is also equipped with with special equipment that is able to alert the driver about any threats on the road, whether that be a car in front, to the side, the back, or in the blind spot. It alerts the driver so they are able to act. The RAV4 is also equipped with an audio multimedia system. You can listen to your music, or have access to other technologies with an easy touch-screen system. It allows you to use your Bluetooth so you are able to stream music and receive and make phone calls.
Visit Metro Toyota to Learn More
If you'd like to learn more about this capable and exciting model, we encourage you to visit our dealership today from near Portage and Three Rivers, MI. You can take a test drive of the Toyota RAV4 to find the perfect trim level for your needs. We look forward to working with you soon!